ALEXANDR GLUKHOVSKIY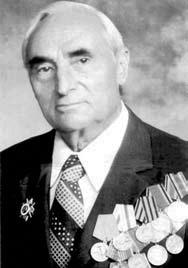 Born January 10, 1915 in Bragin, Byelorussia. Served in the army from 1941 until 1945. Glukhovskiy fought in military part 38785 on the Karelian Front. He was awarded an order of the second degree of the Patriotic War and medals "For the Defense of the Soviet Trans-Arctic" and "For Victory over Germany".
АЛЕКСАНДР ЗАХАРОВИЧ ГЛУХОВСКИЙ
Родился 10 января 1915 г. в г. Брагин, Белоруссия. В армии с 1941 по 1945 г.г. Воевал в составе воинской части 38785 на Карельском фронте. Награжден орденом Отечественной войны II степени; медалями «За победу над Германией», «За оборону Советского Заполярья».