ANANIY ALPEROVICH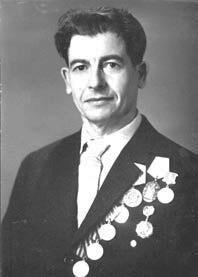 Born on November 28, 1925 in Nizhniy Novgorod, Russia. Served in the army from 1943 until 1950. Alperovich fought in the 859th communications battalion of the 2nd special communications regiment of the Byelorussian Front (battle route: Vyaz'ma, Orsha, Minsk, Shaulyay, Koenigsberg). He took part in military action against Japan (Ulan-Bator, Mongolia). He was awarded an order of the second degree of the Patriotic War and medals "For Victory over Germany", "For Victory over Japan", and "For the taking of Koenigsberg".
АНАНИЙ СЕМЕНОВИЧ АЛЬПЕРОВИЧ
Родился 28 ноября 1925 г. в г. Нижний Новгород, Россия. В армии с 1943 по 1950 г.г. Воевал в составе 859-го отдельного батальона связи, 2-го Особого полка связи 2-го Белорусского фронта под командованием маршала Рокоссовского (боевой путь: Вязьма, Орша, Минск, Шауляй, Кенигсберг). Принимал участие в боевых действиях против Японии (Улан-Батор, Монголия). Награжден орденом Отечественной войны II степени, "За победу над Японией", «За взятие Кенигсберга».