ROZA CHIKIN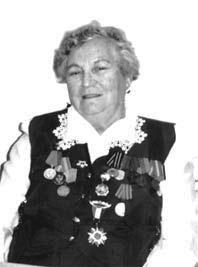 Born on April 20, 1919 in Odessa, Ukraine. Served in the army fro, 1942 until 1945. Chikin fought in the 33rd Army on the Western Front – hospital #4857 (the defense of Moscow and Tula, Vyazma, Spaso-Demyansk, Elnya, Smolensk), and then in the 436th medical and sanitary battalion in the 352nd Orshansk Red Banner rifle division in the 30th Army on the 3rd Byelorussian Front (Orsha, Borisov, Grodno, Minsk, Lida, East Prussia – Koenigsberg, the boosting of Berezina, and Neman rivers). She was awarded an order of the second degree of the Patriotic War and medals "For Distinguished Achievements in Combat", "For the defense of Moscow", "For Victory over Germany" and "For the taking of Koenigsberg".
РОЗАЛИЯ ИЗРАИЛЕВНА ЧИКИНА
Родилась 20 апреля 1919 г. в г. Одесса, Украина. В армии с 1942 по 1945 г.г. Воевала в составе 33-й армии Западного фронта - госпиталь №4857 (оборона Москвы, Тулы, Вьязмы, Спасо-Демьянска, Ельни, Смоленска), затем в 436-м медико-санитарном батальоне 352-й Оршанской Краснознаменной стрелковой дивизии 30-й армии 3-го Белорусского фронта (Орша, Борисов, Гродно, Минск, Лида, Восточная Пруссия – Кенигсберг, форсирование рек Березина, Неман). Награждена орденом Отечественной войны II степени; медалями «За боевые заслуги», «За оборону Москвы», «За победу над Германией», «За взятие Кенигсберга».