SONYA BRAVERMAN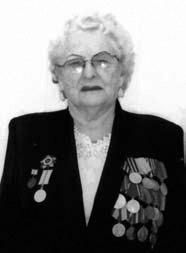 Born on August 7, 1924 in Moscow, Russia. Served in the army from 1941 until 1945. Braverman served in the main command of internal affairs in Leningrad and the MVD of Estonia. She was awarded an order of the second degree of the Patriotic War and a medal "For the defense of Leningrad".
СОНЯ АЛЕКСАНДРОВНА БРАВЕРМАН
Родилась 7 августа 1924 г. в г. Москва, Россия В армии с 1941 по 1945 г.г. Служила в Главном управлении внутренних дел г. Ленинград. Награждена орденом Отечественной войны II степени; медалью «За оборону Ленинграда».